The company De tempore d.o.o. has been founded in 2002. and started its business with a Swarovski Partner Boutique in the center of Zagreb. Since then the company has developed its brand portfolio. As the name explains, de tempore (greek "at the right time") has enriched the Croatian market from year to year with only the best of accessories, jewelry, crystal and fashion goods.
Business divisions
FASHION
• Swarovski
• Elysees
• Jacadi Paris
• Crystal Vision
PRODUCTION
• Crystal Vision
Brand portfolio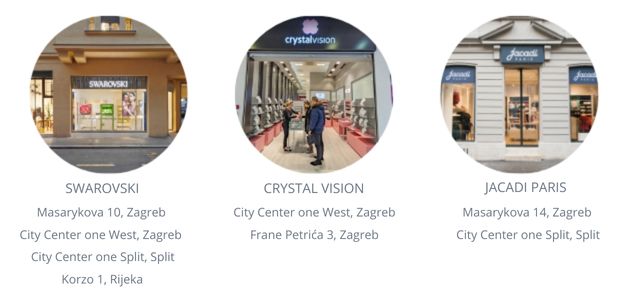 Through the past 18 years De tempore has introduced some of the most renowned world fashion brands to the Croatian market, as Givenchy, Rochas, Balmain, Elie Saab, Nina Ricci, Marc Jacobs, Coach, Sonia Rykiel, See by Chloé, Red Valentino, Swarovski, Crystals from Swarovski, Mawi and many others.
To offer a complete shopping experience and only the best products, De tempore has developed two self-owned brands which are recognized by customers in Croatia.
Elysées is a brand which charmingly portrays the most beautiful Parisian street: Champs Elysées, and with its fashion brings out the desirable french Vivre en style. Handbags, accessories, jewelry and footwear by Marc Jacobs, Coach and Red Valentino are synonyms for the irresistible french chic and flawless style.
Crystal Vision is a brand which houses Croatian designed and produced jewelry, which is made exclusively out of original crystals, which guarantee impeccable style, quality and origin, while ensuring the best value for money.
Company History Certified
Founded in 2002 in Zagreb, Croatia
Privately owned
The owners established the company after extensive experience in international trade
Operating a successful wholesale business developed the need to create a retail oriented company
The idea to divide wholesale from retail activities was the starting point of De tempore
The name De tempore comes from greek, and the meaning is "at the right time"